Video Consultation
Checking system compatibility
See a doctor in just a few minutes!
We need to get some information before we can provide the best possible care. To do that all we ask is that you fill out the following short questionnaire.
Who can we treat?
We can treat you or a child in your care. For anyone else they must be signed up to Webdoctor and book their own consultation.
We can only treat patients who are physically located in the Republic of Ireland at the time of consultation.
If you are booking a video consultation for your child: you must be present at the time of the video consultation with your child. This is so your doctor can make a more accurate assessment.
---
How much does it cost?
Prices for a video consultation with a doctor start at just €35.
If you are a Corporate Care member your consultation will be free.
---
Some of the things we can treat
Cold and Flu
Sore throats
Upset stomach
Kidney infections
Skin and eye issues
Diarrhorea and vomiting
Anxiety (we do not provide controlled medicines, like Xanax or any sleeping tablets)
Cystitis and UTIs
---
What do I do if I (or my child) have an emergency?
For medical emergencies you should contact the Emergency Services on 112 or 999.
If you feel you will do harm to yourself or have suicidal thoughts we urge you to contact your local Doctor, a family member, friend or work colleague. The Samaritans can be contacted on 116 123. Pieta House provide suicide and self-harm support services all over Ireland.
If you, your child or a young adult is clearly ill and a purplish or red rash has appeared, press the side of a glass tumbler firmly against their skin. If you can see the rash through the glass, the person has septicaemia (blood poisoning). Seek urgent medical help at the A&E department of your local hospital, or call 112 or 999 to request an ambulance.
---
What we don't treat
Profuse bleeding
Broken bones
Fractured bones
Being in a confused state
Being excessively sleepy
Chest pain
Severe breathing difficulties
Sudden severe pain or weakness
Incapacitating or Thunderclap headache
Calf pain, if you are on the contraceptive pill (except Noriday and Cerazette)
Severe testicular pain
Ear ache
Pregnancy issues relating to the lack of movement
A need for controlled medication (e.g. benzos, morphine, codeine, modafinil), z-drugs (e.g. sleeping tablets), opiates (e.g. tramadol) or heroin substitutes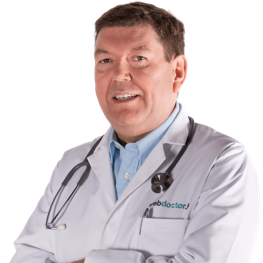 Dr. Sylvester Mooney
BSc, LRCS & PI, MB, BCh, BAO, DObs, DCH, DFSRH(RCOG)
Clinical Director