Apply For Online Health Check
Please note: our Health Check requires you to visit one of our partner clinics. We currently have clinics in Dublin City Centre and will have more options soon.
Unless you are covered by a Corporate Care scheme, the cost of this health check is €350.
The information that you provide is covered by the same patient-doctor confidentiality as in a normal face to face consultation.
Please consider your responses and answer honestly and clearly. The questions we ask ensure that we will give you the best possible service.
The Webdoctor Medical Screen will be personalised and can include:
Detailed online questionnaire covering: Personal History, Family History, Social History, Cardio-Respiratory, Gastro-Intestinal, Nervous System, Urinary System, Dermatological, Rheumatological and Mental Health
Body measurements: Blood pressure, height & weight
Blood tests covering: cardiovascular risks (cholesterol), kidney and liver functions, diabetes, thyroid and other markers
Resting Electrocardiograph (ECG) test
Lung function testing
Colourmetric urinalysis for the presence of sugar, protein or blood
Hearing test
Vision test
Prostate cancer screening for males aged 50-70 (blood and physical examination)
Testicular check for males (age and gender related)
Breast check for females (age and gender related)
Full detailed medical report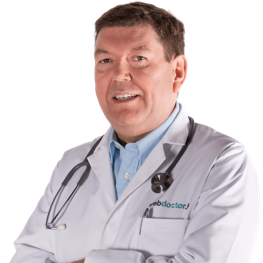 Dr. Sylvester Mooney
BSc, LRCS & PI, MB, BCh, BAO, DObs, DCH, DFSRH(RCOG)
Clinical Director